DOCUMENTS AND CERTIFICATES
TRADEMARK REGISTRATION EXPLANATION FOR V-PİLLSGOLD
www.v-pillsgold.com.tr
We perform very effective works lately with Intellectual Property Rights investigation office in the body of Ministry of Justice which was established for the purpose of hindering the sales counterfeit products.
You can help us by reporting the sales points of counterfeit products to hukuk@v-pillsgold.com.tr by mail or to 0 212 441 34 00 by phone.
V-PILLSGOLD is registered trademark of Taylan Medikal A.Ş. In our country, domain names that end with "com.tr" is only given the companies that have registered trademark. Therefore, web sites that make sales without www.v-pillsgold.com.tr domain name, which belongs to our company, are not secure. Besides the internet sales, you can find our products in elite pharmacies in Turkey, chain stores and national internet shopping sites.
V-PİLLS IS RENEWED!
We renewed V-Pills in our 10th year. We present you a much more powerful product now: V-Pills GOLD. We did not only change the formula of V-Pills, we also changed its "box-bottle and cap." The cap color changed to golden yellow and the logo became embossed, we used the same color and embossment on the box as well. From now on, V-Pills GOLD will be sold in this way!


V-PİLLS IS RENEWED!
-Vitamin E
-How Thom(Fruit)
-Horny Goat
-Cayanne
-Chineese Ginseng
-Ginkgobloba

-Vitamin B
-Saw Palmetto
-İnosine
-Guarana
-Ferula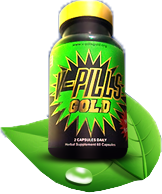 CONVENIENCE OF PAYING AT THE DOOR WITH CREDIT CARD
Opportunity of interest free 9 installments at the door payment with Maximum credit card with the cooperation of Yurtiçi Cargo and İş Bank or single disbursement opportunity for the other credit cards is waiting for you!
REFUND GUARANTEE!
If you are not happy when you use the first box after you buy 3 boxes of V-pillsgold from our company, you can get your money back as long as you send us the unopened boxes.
V-pills Gold
V-pills